Who would have thought that life could change so drastically? We have been so comfortable living our lives, chasing our dreams and suddenly, everything changed. The world came to a halt. Covid-19 hit Singapore early and we found ourselves in the center of global media attention by early February, alongside China and Japan. The virus spread like wildfire – uncontrollable and unprecedented, it went on a rampage without a warning. Country after country it propagated, and thousands of lives were lost. Countries went into lockdown and travel restrictions were implemented. We were not spared.
I am a trap shooter, a clay target shooting sport using a shotgun. It's not particularly a popular nor an appealing sport in Singapore but it's there. We have all but one association with a shotgun shooting range in Singapore and a total of three national shotgun shooters. You're probably more familiar with pistol or rifle in terms of the shooting sports in Singapore. But I love this sport. More than any other competitive sports I've undertaken in my life.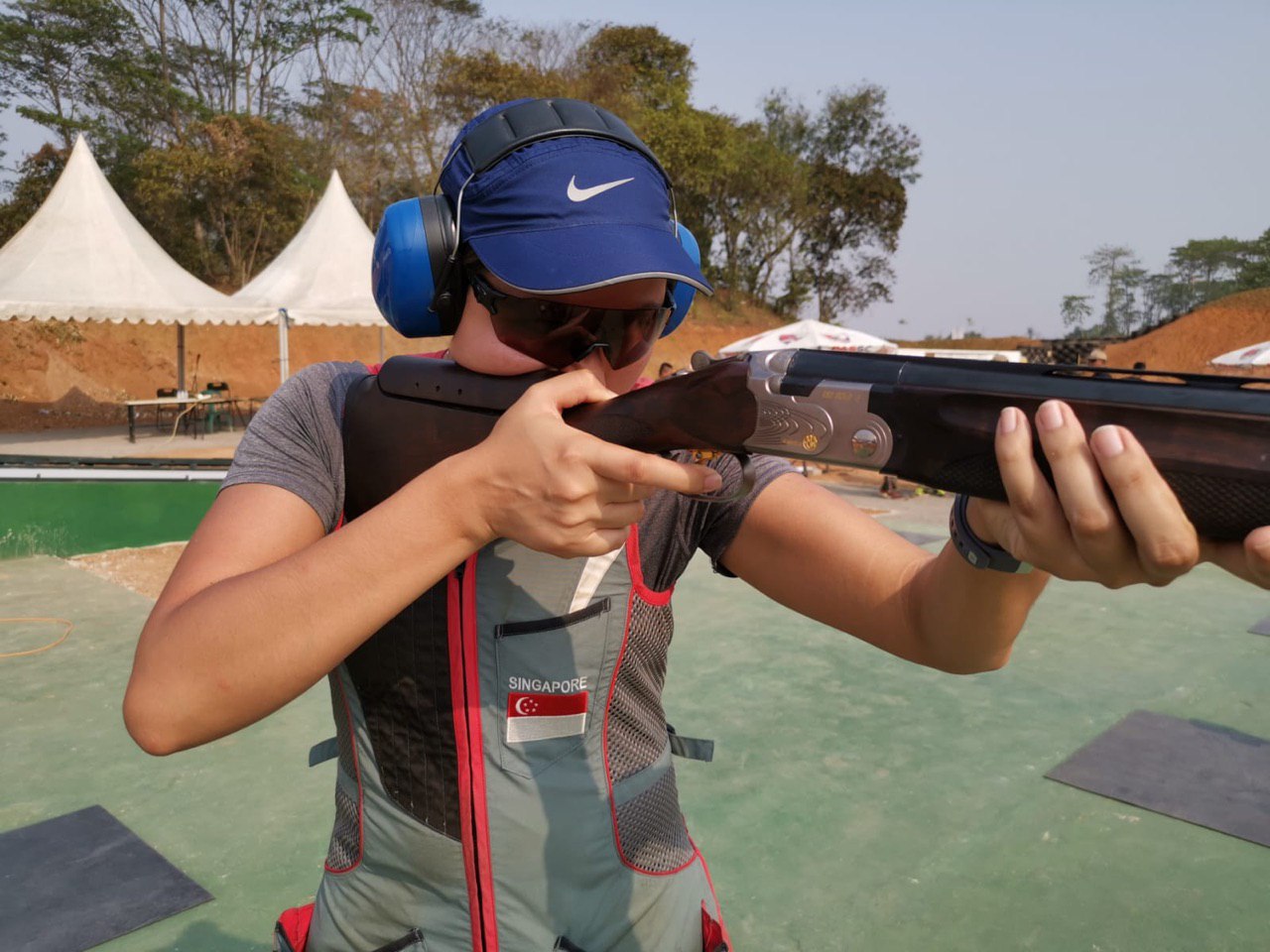 Photo: Siti in her full shooting gear, ready for a shot.
I was looking forward to my first ISSF Shooting World Cup in March 2020. After coming back with my personal best in the Asian Shooting Championships in Doha in November 2019, I was pumped up and ready for the next challenge. All set to push myself further and hit higher scores. Deep down, I knew there's a chance that I may not be able to compete because the virus was spreading so rapidly. But I chose to live in denial. Initially, the World Cup was postponed and there was still hope that I could compete. I was left disappointed. It was cancelled and postponed indefinitely.
Our country went into lockdown in early April, and we termed it as the 'Circuit Breaker'. Only essential services are permitted to continue its operations. The training grounds closed, gyms closed, all public gatherings were prohibited, and even places of worship were shut. This is worse than SARS in 2003 or H1N1 in 2009. How am I going to train? What about the competitions? I travel overseas a few times a year for competitions but this year's outlook seems bleak.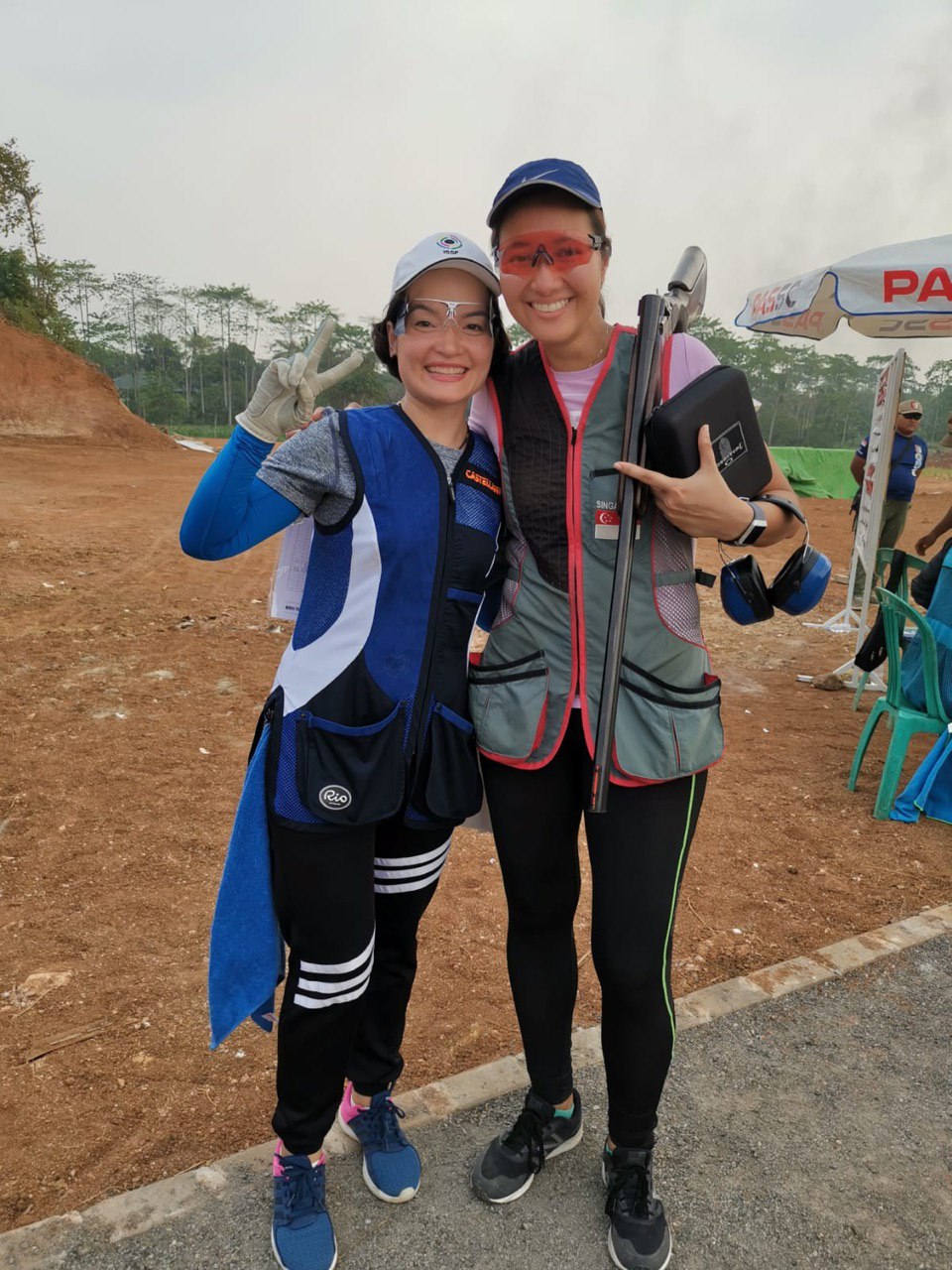 Photo: Siti with a fellow athlete while competing overseas.
The digital age proved to be useful. It's the only way to communicate with our friends and love ones. I can't train like I used to. I must adjust. I would work out at home or at best, go for a quick run and head home. I can't meet any of my teammates until this is over. YouTube videos, online workouts are the only coaching I get during this time. I started reading and binging on shows I have always wanted to watch but was too consumed with training activities. Days felt like a drag and I sorely miss the adrenaline, and the fun we have training as a team. Not to mention the company.
On the bright side, this is a rare break that we get. Maybe once in a lifetime. Moments of solitude to self-reflect and focus on self-development. I was able to spend more time with my family and even started baking again (something I enjoyed doing when I was a teenager). I have grown to appreciate the importance of family, friends and the ability to roam freely. "There are some things you learn best in calm, and some in storm" by Willa Cather.
No doubt, the Circuit Breaker will be over soon, and schools are starting on 2 June. But life may be different. Social distancing will still be a key element in our lives. But let's take one step at a time. Remember what's important and we're all in this together.
And together, we will overcome. #sgunited
- Siti Mastura