Beautiful People (BP) and New Life Stories (NLS) announced today that a pilot project, Circuit Breaker School Buddies (CBSB), has commenced to support children and their families amidst the COVID19 situation. Powered by the OneStrong Fund, CBSB seeks to provide children and youth with mentors who care about them and provide support to empower the mentees' dreams.
"This is an unprecedented and challenging time for all of us. And there some in our community who are more disproportionately affected. This is why this mentor project is so important, especially now, for youth from disadvantaged backgrounds to have a caring mentor in their lives and for these youth to feel less alone and be more hopeful for the future to come. We are very thankful that New Life Stories can be part of this collaborative project in reaching out to youth in our society." said Ms Saleemah Ismail, New Life Stories.
The unprecedented COVID-19 situation has created this urgent need to ensure children are not left out. In fact, it has presented an opportunity to fast track our commitment to support them. While it serves the immediate needs of the current situation, the CBSB's mission will continue for the long run.
Through the OneStrong Fund, the CBSB project seeks to provide children and their families with computing devices, learning tools and books, experiential learning journeys and other essential items, like grocery and food vouchers. The project, including the fund will be administered by NLS and BP. A committee has been set up to assess applications and approve fund disbursement. There will be no administrative cost in the management and disbursement of the fund as all parties have agreed to volunteer their expertise and resources without any compensation.
"Over close to 15 years, Beautiful People has seen the impact and the power a positive mentoring relationship can have on both the mentor and mentee. We are pleased to be a part of the OneStrong fund and the Circuit Breaker School Buddies Project, supporting the young athletes in mentoring the youths. We hope more organizations can join us in this work of empowering youths and families through mentoring." said Ms Phyllis Ng, Beautiful People
OneStrong Fund
In support of the CBSB project, the OneStrong Fund has been established with a pioneer amount of S$25,000 coming from National Team Coach, Tatsuma Yoshida and nine Football Association of Singapore (FAS) senior management staff. Tatsuma has volunteered to contribute a significant portion of his monthly salary in support of this cause while the nine FAS staff have donated their annual salary bonuses for 2019 in full. In addition, the OneStrong Fund will receive the government's dollar-for-dollar matching grant, bringing the total amount to about S$50,000.
Emphasising on the importance of giving back to the community, Tatsuma said: "I am very grateful for the support shown to me by Singaporeans during my time here and this is one way I am able to show my gratitude in return. I have personally seen how different communities, especially the essential workers and all of those who are working on the frontlines, have come together to help those in need since this pandemic started. It inspired me to play my part and show my appreciation since I am part of the community as well. I am happy that the money will be used in a way that is much more beneficial to someone else who needs it more during this period."
Explaining the united personal commitment to the project, FAS General Secretary Yazeen Buhari said: "During difficult times like these, it is more important to help out the ones who require assistance. The value of football goes beyond the field. It is about how we step up and support our community. This is a personal gesture of solidarity amongst the senior management staff of FAS that embodies the power of sport and the love for our community. On behalf of my senior management team, I would like to sincerely thank Beautiful People, New Life Stories and Team Singapore athletes for helping to make this initiative possible."
Team Singapore Mentors
For a start, the core aspect of the CBSB project will see 24 former and current Team Singapore athletes, as well as members from the sports fraternity, mentoring 31 children over ten weeks. All Team Singapore athletes will also be supported by a senior mentor from Beautiful People and New Life Stories throughout the project period.
Having been through more failures than successes in their sporting journey, Team Singapore athletes understands the kind of support, values and mindset that keeps them motivated to persevere for their dreams. This includes feeling part of support system, having passion and belief in themselves, and being able to celebrate each setback as an opportunity to learn and grow. Through the CBSB project, athletes can become the role model and friend that the children need to feel supported as part of a team and empowered to dare to dream. #OneTeamSingapore
"I look to be a role model, someone they look up to, but more importantly, their friend and someone they can trust. As a mentor, I hope that I am able to create a lasting positive impact. We are only a few weeks into this Circuit Breaker School Buddies project, but just seeing the kids grow, whether it is gaining that little bit of self-confidence or being able to smile a little wider, brings joy and warmth to my heart." said Ms Marina Chan, Team Singapore (Swimming)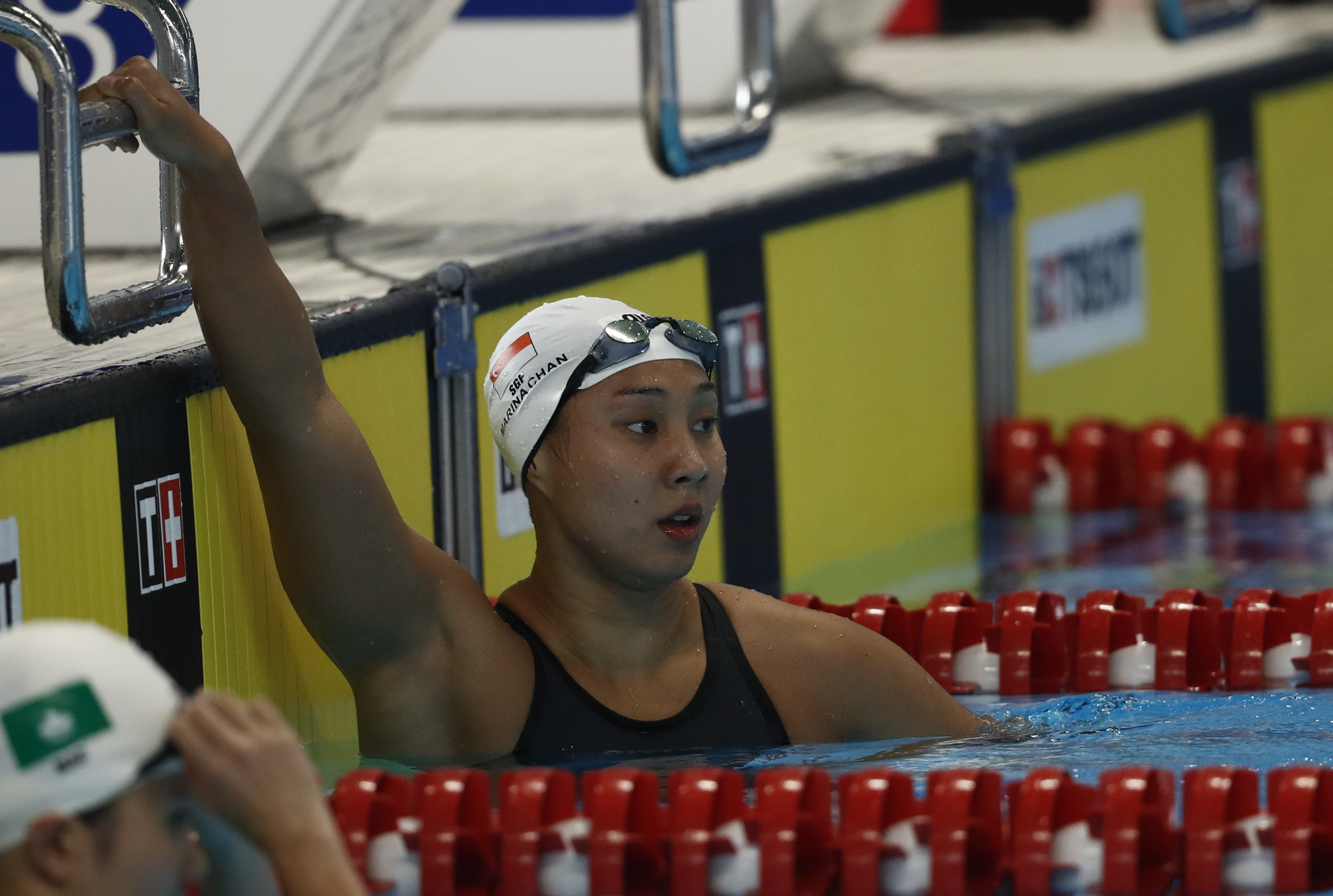 Photo: One of the Team Singapore athlete-mentors, Marina Chan in action during the 2018 Asian Games.
"We are currently in a very tough situation, and I saw the Circuit Breaker School Buddies project as an opportunity to help others cope with it. It has been a humbling experience for me so far. My mentee and I are getting along well. We exchange stories about our lives and aspirations, and that was when I found out about her love for poetry. She had shared a personal piece that she had wrote with me and now, we are working on a poem together." said Ms Nurul Suhaila, Team Singapore (Pencak Silat)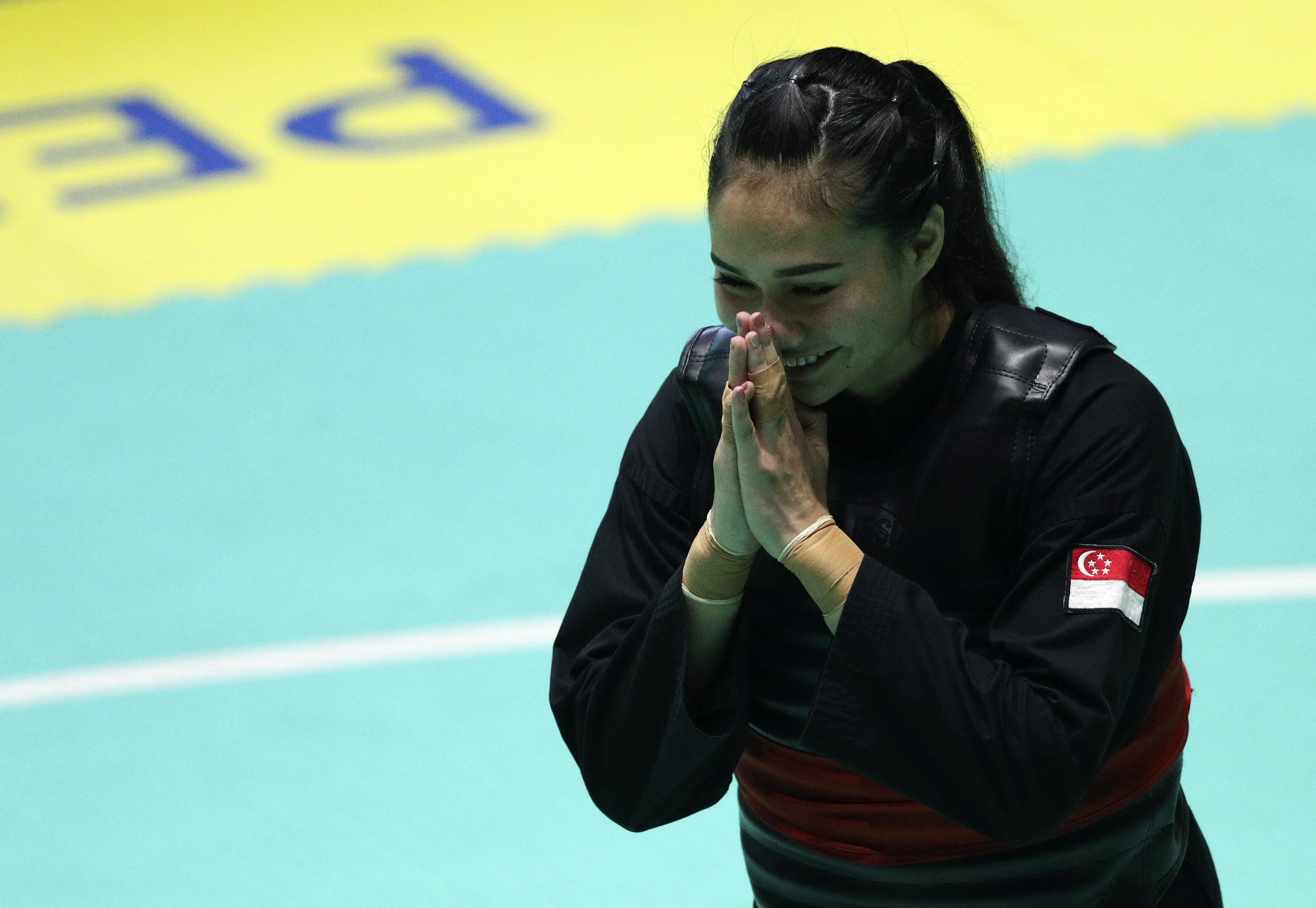 Photo: One of the Team Singapore athlete-mentors, Nurul Suhaila in action during the 2018 Asian Games.