Team Singapore continues to show consistency and depth as evidenced by the 53 gold, 46 silver, 68 bronze medals amassed at the just-concluded 30th Southeast Asian Games held across four major clusters in the Philippines.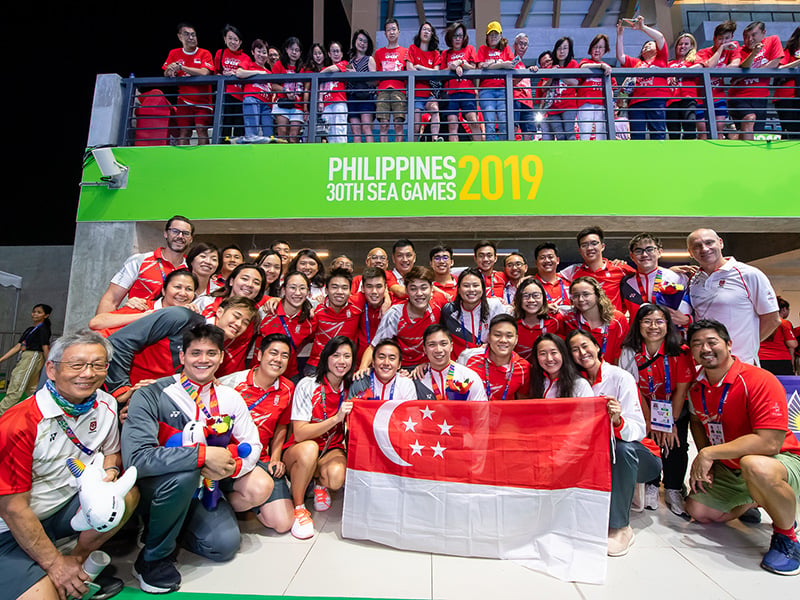 Photo: Singapore Swimming Team Athletes & Officials at the 2019 SEA Games.
At a meeting with the media Wednesday (11 Dec) morning, Team Singapore officials gave praise to the largest contingent the Republic has ever sent to an away Games – 659 athletes taking part in 48 of the 56 sports.
The 2019 edition marks the third consecutive SEA Games where Team Singapore has achieved more than 50 gold medals, and also surpassed the 900th gold medal mark.
Commenting on this, Richard Gordon, Head of High Performance and Athlete Life at the Singapore Sport Institute, said: "Yes, it's been a terrific Games. This has been the third games where we've come back with 50 or more gold medals and over 164 medals in total, which is very pleasing.
"Over the last three SEA Games, we've been pretty consistent in that we showing some depth. It's showing that we've made significant improvements and we're consolidating those improvements."
Swimming was singled out for particular praise after contributing 23 gold medals as well as delivering all 15 new SEA Games records set by Team Singapore Athletes. Singapore's leading swimmers Quah Zheng Wen and Olympic champion Joseph Schooling also managed to book their tickets to Tokyo 2020 after achieving 'A' timings – 100m backstroke for Quah and 100m butterfly for both.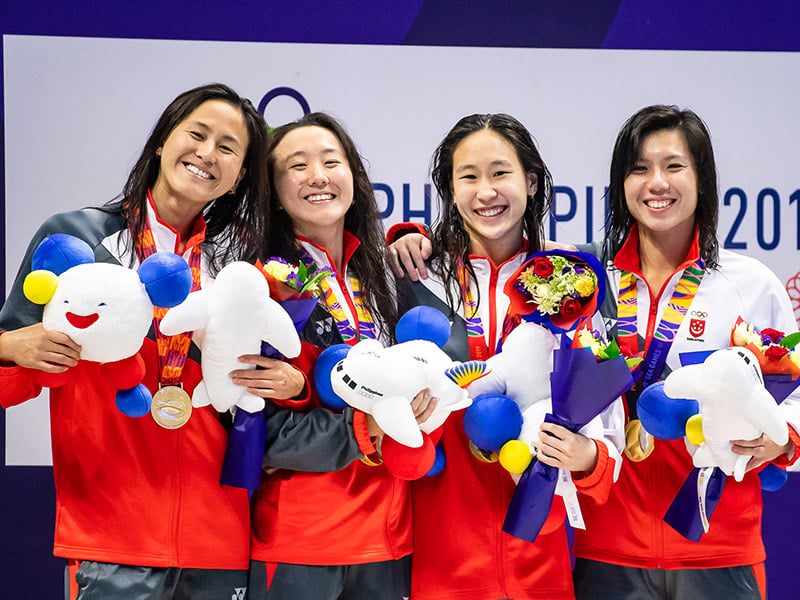 Photo: Singapore Swimming Team Athletes with their medals.
More pleasingly, 12 different swimmers made it to the top of the podium (compared to six in 2015 when Singapore similarly won 23 gold medals in swimming), including a good number of newcomers.
This was a point Gordon was keen to emphasise.
"What's particularly pretty pleasing with regards to the swimming performance is the established stars have delivered and the young up-and-coming stars have started to get onto the podium.
"Youngsters that came into the scene a couple years ago have started to come to fruition over a period of time and many of them have walked away with gold medals this occasion."
The Closing Ceremony on Wednesday witnessed the crowning of Quah as the Most Valuable Sportsman of the Games for his haul of six gold and two silver medals.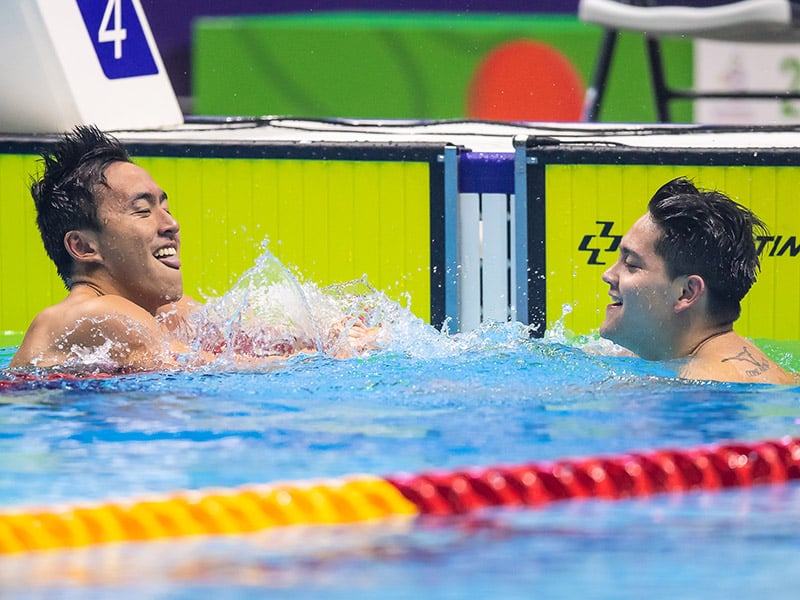 Photo: Singapore leading swimmers who booked their spots for the Olympic Games.
More than half the contingent – 366 athletes or 56 per cent – were debutants, with Singapore taking part in seven new sports, namely beach handball, underwater hockey, e-sports, surfing, sambo, kurash and skateboard. Newcomers contributed 51 of the 167 medals won, with underwater hockey earning the distinction of sweeping all four gold medals on offer.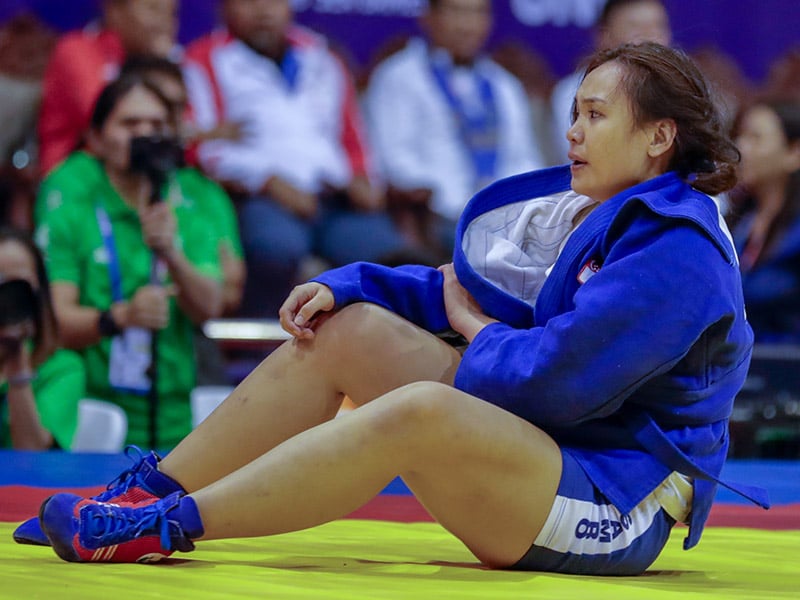 Photo: Team Singapore competed in sports like Sambo.
There were many highs to celebrate.
Fencing won four gold medals, three silvers and six bronzes to emerge as the top nation in their competition. New Hui Fen was the toast of the bowling squad with, winning three gold medals – singles, masters and team. Winter Olympian Cheyenne Goh broke through for Singapore in short track speed skating, winning both the women's 500m and 1000m events. And her male counterparts snared the 3000m relay event. Ice skating's success kicked off with Chloe Ing's women's figure skating gold as she improved on her silver from the previous Games.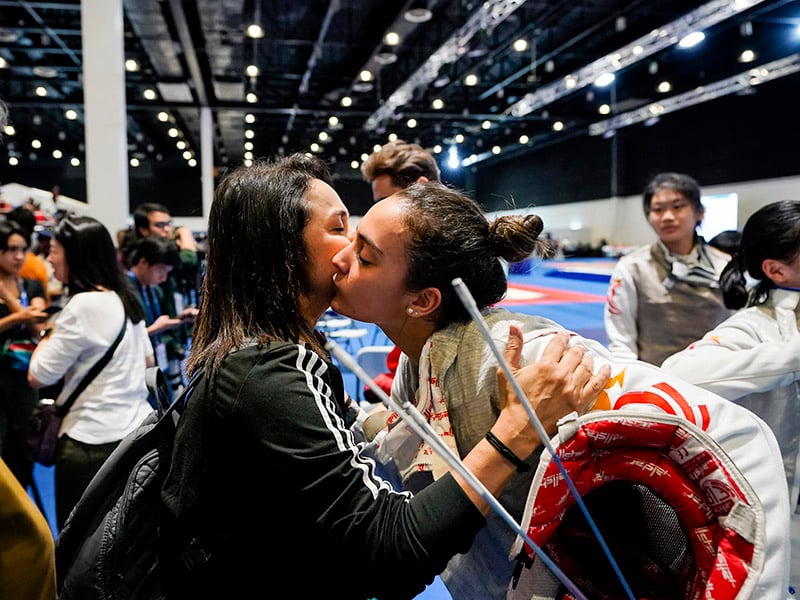 Photo: Team Singapore Fencing won 13 medals at the 2019 SEA Games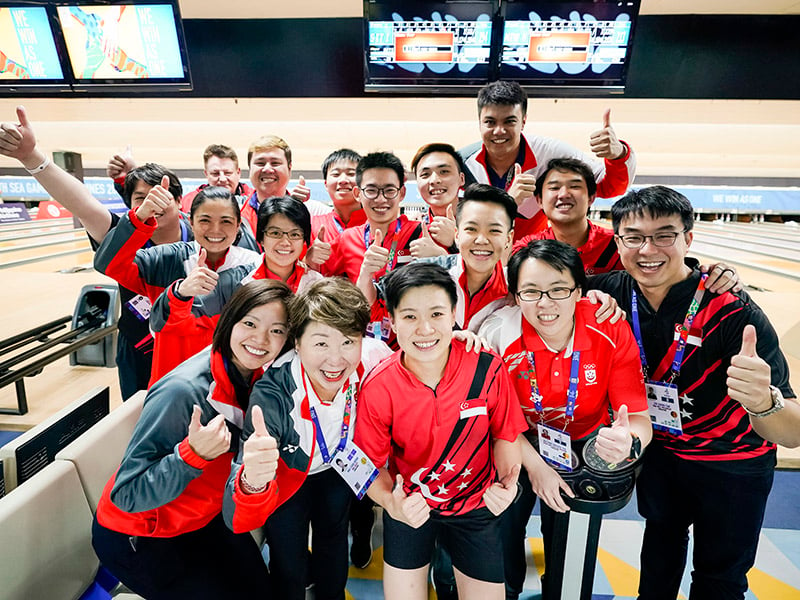 Photo: Team Singapore Bowling Team celebrating their great showing
Golf celebrated the success of James Leow in the men's individual event, his gold ending a 30-year drought while badminton saw Loh Kean Yew reaching the men's singles final – the first since 2007 – although he was bested by Malaysia's higher-ranked Lee Zii Jia. Sailor Ryan Lo defended his Laser Standard title as the sailing team also won five silver medals.
Softball provided a heart-warming story as they delivered gold for the first time as a result of proper planning and unwavering commitment by Association, officials, coaches and players.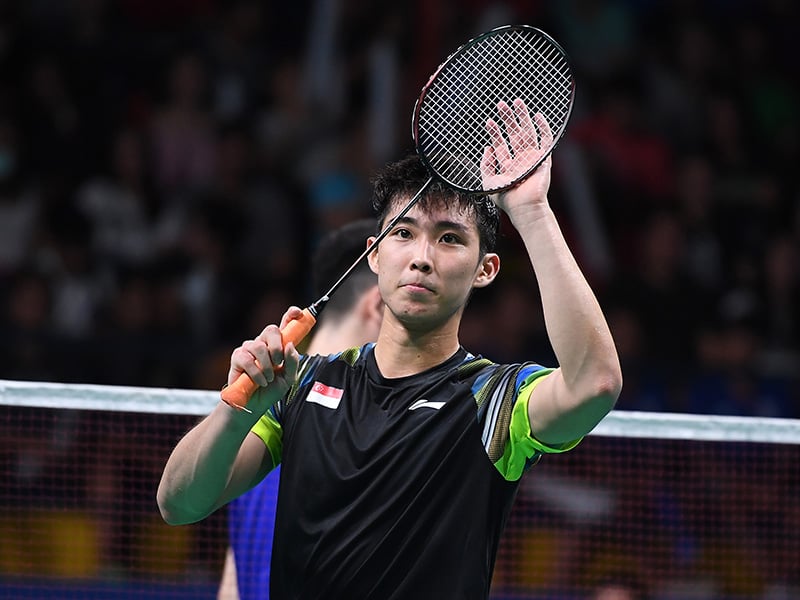 Photo: Team Singapore Shuttler reached the Men's Singles Final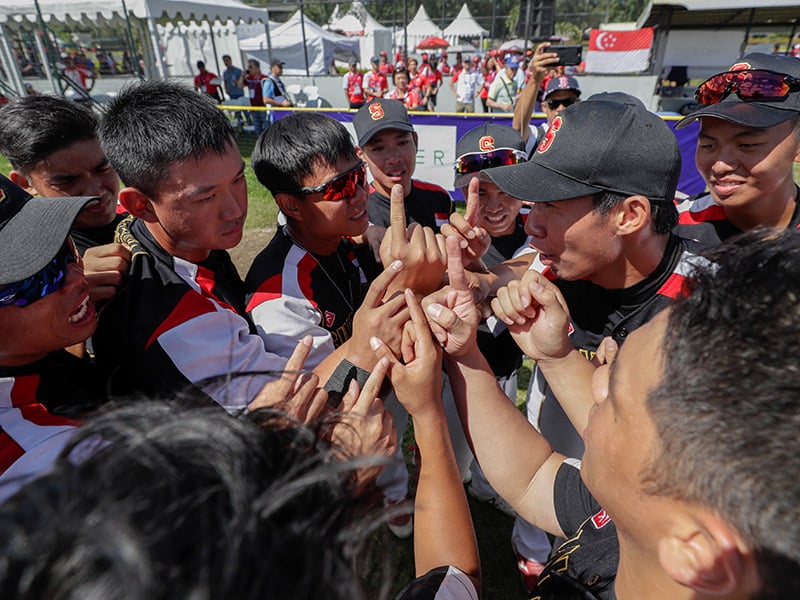 Photo: Team Singapore Softball Team with a first Gold Medal
Jiu-jitsu impressed with two gold medals, including gold for Constance Lien which was the last gold medal won by Team Singapore at these Games.
"They've built upon the silver medal that Constance won at the Asian Games, they've consolidated that and built further. We're looking forward to working with them in the longer term," said Gordon who stressed further assistance will be provided to sports with the priority based on their potential for a longer runway and possible inclusion in future major Games.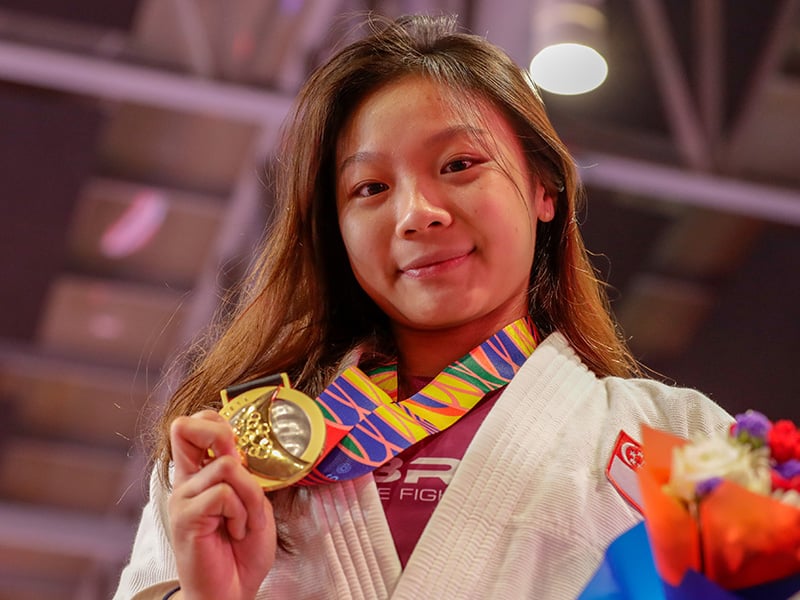 Photo: Team Singapore Jiu-Jitsu athlete with her medal
There were also surprises but none bigger than the ending of the men's water polo team's 54-year 27-edition winning streak.
On that, Gordon said: "We'll be talking very closely with the Singapore Swimming Association, who look after water polo, in terms of what they think happened.
"Water Polo we knew at some stage the streak was going to be broken. What's exciting for us and for water polo is they have solid long-term plans moving forward that they'll be looking to implement.
"If you're going to bring about change, now is the best time to do it. We think they'll bounce back even stronger and hopefully it'll be another 27-edition reign in water polo.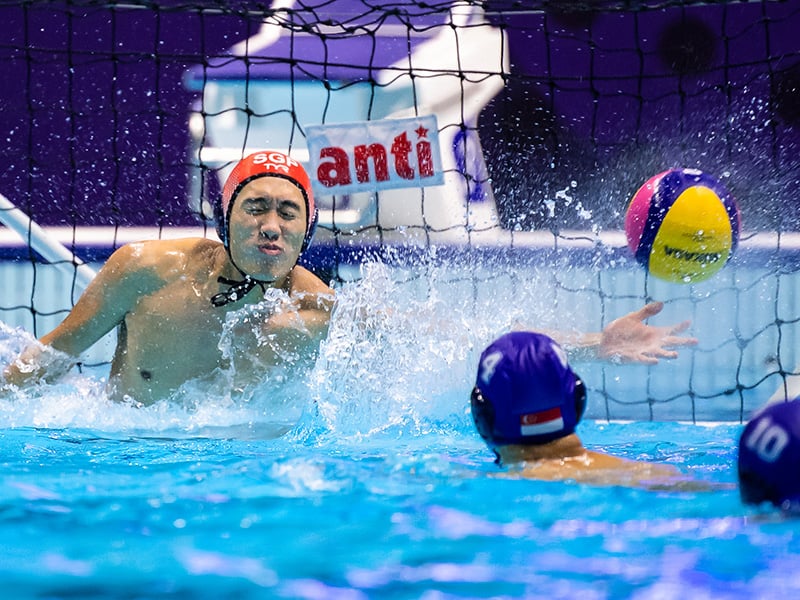 Photo: Team Singapore Water Polo team in action
Team Singapore Chef de Mission Juliana Seow paid tribute to the athletes for their grit and perseverance, noting that "even the typhoon wasn't able to dampen the strong team spirit our contingent displayed."
She also recorded her thanks to the Team Singapore support system, "mainly those from the Singapore National Olympic Council, Sport Singapore, Singapore Sport Institute and National Youth Sports Institute in ensuring that no detail was overlooked in preparations.
"My appreciation goes to the organisers and volunteers in the Philippines for their warm hospitality and for looking after Team Singapore," she said.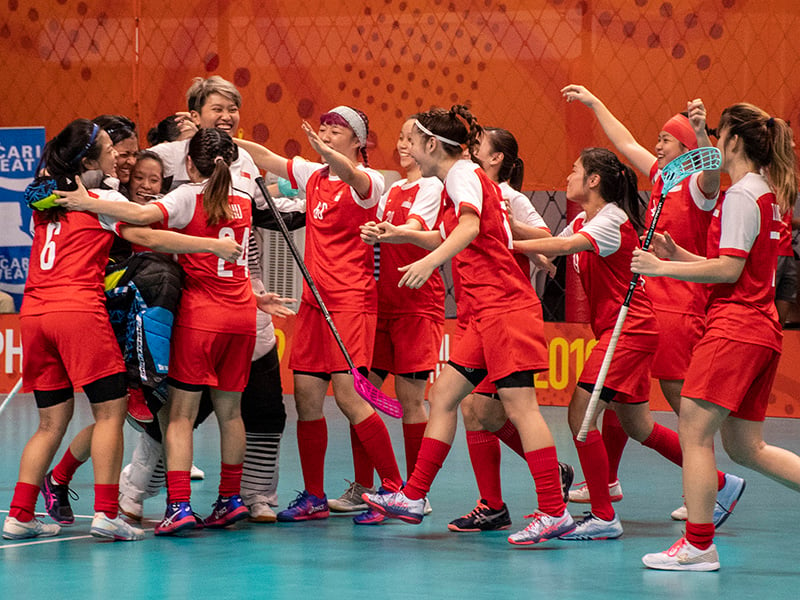 Photo: Team Singapore Floorball Women Team celebrating their gold medal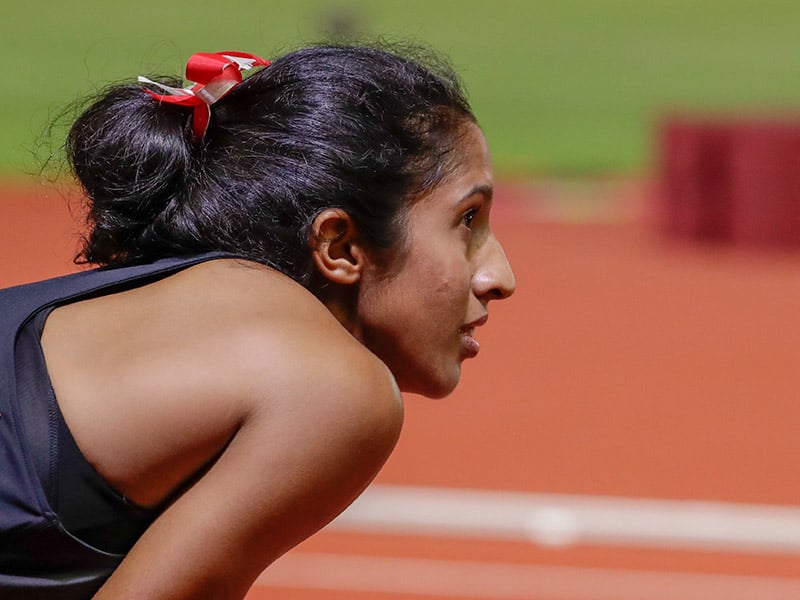 Photo: Team Singapore Athletics athlete on the track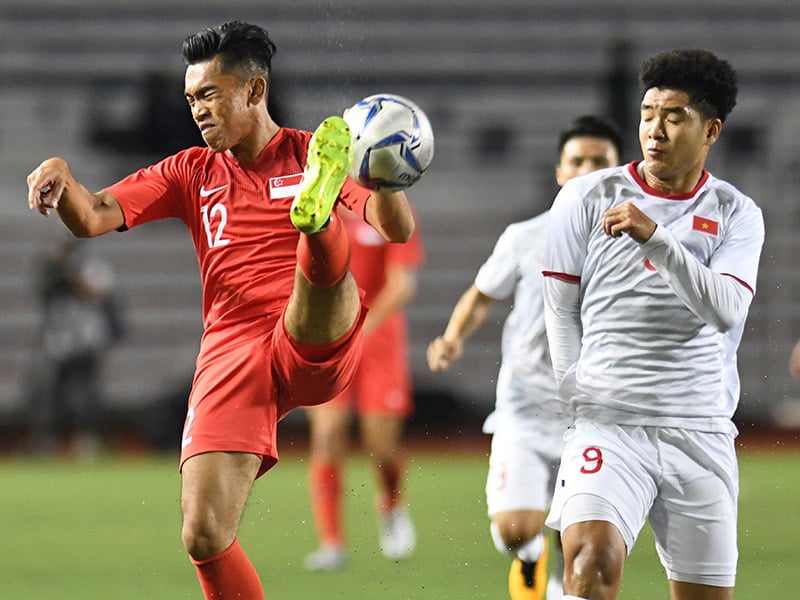 Photo: Team Singapore Foorball team in action